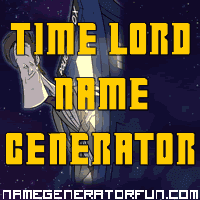 Your original Gallifreyan name is Jodtrisdanuarizadathene, or Jodtris for short. Back on Gallifrey, you led a dull and uninteresting life, working as an Assistant Librarian at the Patrexe Academy – but now, you travel Time and Space in search of adventure!
Your Type 66 TARDIS is currently stuck in disguise as a Coca-Cola vending machine, and your latest travelling companion is a bright-eyed, easily confused English teacher from 1968.
Get your own time lord name from the time lord name generator!
I can totally believe that as my story if I were a renegade Time Lord. Although I can't help wondering what exactly it is I'm monitoring...